Sheikh Hasina and the Question of Nepotism
From The Wire (October 12, 2023)
The Bangladesh prime minister's fervent lobbying for her daughter to head the World Health Organisation's regional office jeopardises its status as a monitor of public health in a region that includes India and contains a fourth of the world's population.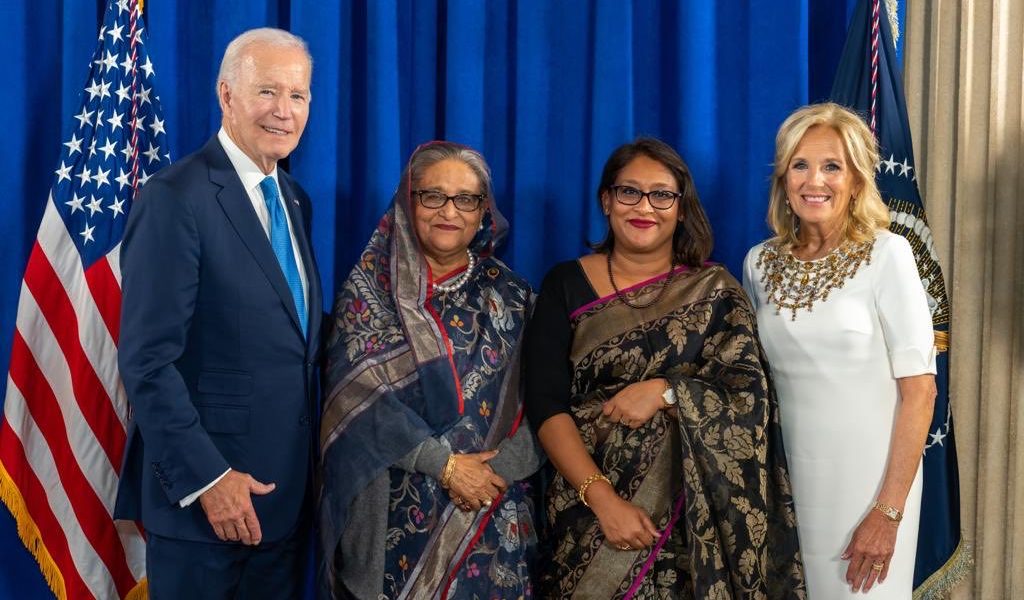 Bangladesh and Nepal are the closest partners among the countries of South Asia, with similar worldview and positions on most matters, including agreement on the SAARC philosophy of regionalism for progress. Dhaka and Kathmandu are the most proximate capitals distance-wise, and one would expect progressively closer contact between the two societies, even as plans for Nepali hydropower export to Bangladesh inches forward with the concurrence of New Delhi.
Yet, there is a kind of rupture underway between the two societies, from an unexpected source – the candidacy to the post of regional director of the World Health Organisation's office that deals with much of South and Southeast Asia.
The two countries are in the fray for a position held till now by Indian national Dr Poonam Khetrapal Singh. The regional director is elected by 11 countries of the region comprising Bhutan, Bangladesh, India, Indonesia, Maldives, Myanmar, Nepal, North Korea, Sri Lanka, Thailand and Timor Leste.
Nepal proposes Dr Shambhu Acharya, a public health expert with decades of experience in senior positions in the WHO right through the Covid crisis, a director working closely with Director-General Tedros Ghebreyesus. Bangladesh proposes Saima Wazed Hossain 'Putul', daughter of Prime Minister Sheikh Hasina, who has been a school psychologist in the United States and leads a foundation on autism in Dhaka. As a citizen of Canada and Bangladesh, Wazed shuttles between North America and Bangladesh.
Given the importance of what is formally known as the WHO-SEARO regional office, with responsibility to provide public health oversight to more than two billion people, it is shocking to see Bangladesh's prime minister seek to foist a family member with poor qualifications upon the organisation. The senior management of WHO, a specialised agency of the United Nations system, is said to be taken aback and concerned over the institutional implications of such personalised politicisation.
Hasina has been energetically nepotistic, using all diplomatic tools at hand even as her proven autocratic ways force Dhaka intellectuals who think otherwise to maintain silence. Meanwhile, Nepal's Prime Minister Pushpa Kamal Dahal ('Prachanda') has been lackadaisical when it comes to supporting its own candidate, for reasons that will become clear.
Selfies at summits
'Brazen' is the term that best describes Hasina's chaperoning of her daughter to global and regional summits, misusing the clout that comes with being the prime minister of a country as important as Bangladesh. The nepotism cannot be adding to the stature of her country and government, much as Dahal's unthinking actions on other matters embarrass Nepal before the neighbours and the world.
Indeed, it is nothing less than a 'South Asian embarrassment' to find grinning photographs and selfies of the prime minister and first daughter taken over the last few months with President Joe Biden, Prime Minister Narendra Modi, President Xi Jinping and others. Wazed was right up there by her mother's side hobnobbing with world leaders at the BRICS summit in Johannesburg, the ASEAN Summit in Jakarta and the G-20 summit in New Delhi, besides at the United Nations General Assembly. The sudden escalation in visibility had only to do with the election of WHO regional director.
It does looks like the WHO-SEARO position is being used by Wazed as a stepping stone into a political career in a few years' time. There is talk in Dhaka circles that Wazed is being groomed to take up the political mantle from her mother (and grandfather, the assassinated Sheikh Mujibur Rahman) instead of brother Sajeeb Wazed 'Joy' and sister Sheikh Rehana Siddiq.
Whichever way one looks at it, Hasina seems to be using the WHO position for dynastic promotion, in the process jeopardising the organisation that is tasked with watchdogging medical and public health activities of hundreds of millions. This is not an office to be led by a political appointment of a family member, unless that family member can stand full scrutiny for his/her skills and experience.
Perusing the curriculum vitae of Wazed, appended to her application for the WHO position and available online, she seems to have spent considerable amount of time in and around Barry University in Miami, Florida. (According to one university ranking, the university is placed 394 out of 434 national universities in the US, and holds the 21st spot for Florida.)
Wazed's work experience has been mainly as a 'licensed school psychologist' in the Florida education system. Her public career in Bangladesh seems to take a jump after 2014. While one should not even think of undermining the importance of her activism on autism, clearly Wazed's positions various positions have been the result of deft backing by her mother the prime minister, with conflict of interest writ large. All the publications cited by Wazed in her WHO-SEARO application are from 2019 onwards together with many other authors, and the positions she mentions are honorary and requiring irregular meetings.
Respected international medical and health journals such as Health Policy Watch and The Lancet have felt constrained to report on the matter of the WHO-SEARO elections. The former not only carried a report, but also editorialised on the matter stating that Hasina's activities were working "to delegitimise both the election process and the future credibility of elected WHO Regional Directors".
Wazed's defence
Wazed has been active defending her candidacy via her X (formerly Twitter) handle, and posting endorsements that come mainly from those working in autism. To counter criticism, she proffers an article from the The Print which she claims "dispelled the campaign raised by Lancet and the other publications".
Even though it is known that the Indian government has not disclosed its preference among the two candidates, the puff piece of an article is titled "Bangladesh PM's daughter adding political colour to WHO elections. She has India on her side." The article is written by a 'former journalist who works at Chase India', and points to the fact that Wazed's X timeline "is replete with photos with the who's who of the global political and public health arena", as if that is the qualification required.
(The use of 'Dr' appellation in Wazed's X handle may be questioned; what she has is an honorary doctorate awarded in early March 2023 by the Bangabandhu Sheikh Mujib Medical University.)
Responding specifically to The Lancet with a spirited article on the Inter Press Service, on October 9, Wazed said she was being targeted by those with a bias against the field of psychology. Her "years of work study and accomplishments" were being disregarded simply because she is daughter of the prime minister. Wazed asks that her professional work in mental health and autism be counted, and reminds readers that she is currently completing a doctorate in education in organisational leadership.
Wazed maintains that opposition to her candidacy is fuelled by gender discrimination: "Women competing for positions of power in major institutions face opposition laced with a vicious strain of sexism."
Then the argument takes an interesting turn: Wazed says her candidacy is to be favoured vis-à-vis Acharya's because, in essence, Bangladesh has a better public health record than Nepal. "This would lead to a more reasonable consideration about which of these two countries has better public health outcomes, and therefore more likely to make better choices for the public health of the region." Essentially, the Bangladeshi candidate equates herself with her country.
Kathmandu's response
The position of the Nepali government leadership tends sadly to be defined by real or imagined reading of what New Delhi wants, in the current case, the conjecture that the Indian government favours the candidacy of Bangladesh. Prime Minister Dahal is one who has confided that Nepal should have a government that is 'comfortable' to New Delhi, and he also is beholden to New Delhi for his present elevation.
Under the circumstances, on numerous matters, the Dahal government wants to do right by New Delhi, such as running scared of receiving the report of the Eminent Persons Group on the future of Nepal-India relations, discussing border disputes or asking for air corridors over Indian airspace. In the immediate instance, the Dahal cabinet clearly infers that New Delhi favours Wazed, based on Prime Minister Modi's unstinting support for Hasina's government. All evidence points to the Kathmandu government having gone cold on its own candidate, which is why foreign minister N.P. Saud (of the Nepali Congress) was most unhappy when a Member of Parliament spoke in support of Acharya's candidacy on the floor of the House.
Dhaka, meanwhile, is emboldened by the Nepali government's lack of enthusiasm to fight the good fight on behalf of Acharya. While the diplomatic machinery of Kathmandu's foreign ministry is held in check by the Cabinet, Dhaka is on an all-out lobbying spree, also spreading word in respective capitals that the battle is all but won. Not to leave any stone unturned, Bangladesh Embassy officials in Kathmandu are approaching local journalists and asking them to write articles demanding a retraction of Acharya's candidacy.
Statement from Kathmandu
While Wazed has been flying across the seven seas attached to Hasina's official entourage, Acharya has to contend with a lukewarm campaign from his government, paying for his own trips to Male, Colombo, Thimphu and New Delhi.
Clearly, Hasina's galloping authoritarianism has her unable to restrain campaigning on her daughter's behalf. The sense of impunity and invincibility is seen in her cracking down on independent minded journalists and human rights defenders, even disallowing her beleaguered opponent Khaleda Zia of the Bangladesh Nationalist Party from going overseas for treatment. Against such a backdrop, it is perhaps natural that there is little or no dissonance in Dhaka regarding Wazed's candidacy.
Alarmed by the strident campaign of the Hasina government for the secret ballot that is to be held in late October in New Delhi, eight senior Nepali civil society members and medical professionals put out a statement on October 8, where they said:
"It is obvious to us that Dr. Acharya is the better fit between the two candidates nominated for the position. He possesses a strong public health background and has extensive leadership experience in tackling global health issues. Dr. Acharya has impeccable credentials with a PhD in public health, specialising in health policy and planning from a globally renowned university; a Masters in Sociology focusing on social policy; and an MBA in public finance and strategic management."
Highlighting Acharya's three decades of work at WHO, the signatories add:
"In contrast, the only other candidate in competition for the position is regarded by the public health and medical fraternity as a political protégé with a privileged pedigree whose thin resumé is not adequate to lead a complex global health institution such as WHO-SEARO. The unabashed, high-profile lobbying at senior-most political levels, aided by a mother's access to global leaders at unrelated summits and conclaves, has generated cautionary commentary not only in public health circles but also in journals of renown and credible international media. In the current post-Covid public health environment with its numerous challenges, UN leaders steering health issues must have strong credentials and proven dynamism."
Dr Rita Thapa, one of Nepal's most respected public health experts with half-a-century's contribution in the national and international arena, who has worked closely with the WHO system, says: "WHO's Regional Director must have the technical and managerial competencies to promote, restore and maintain health in the member states."
Adds Thapa: "It would be shameful to have leadership in WHO-SEARO without adequate qualifications, which would limit the objectives of global health." She asks that the chair of the WHO Regional Committee, health minister of Bhutan Dechen Wangmo "undertake rigorous validation of the qualifications, competencies and claims of candidates, and ensure greater transparency in the selection process".
Given the public health and medical challenges faced by hundreds of millions of people in the South and Southeast Asian region, with more dangers looming in the form of new vectors and variants, amidst transforming climate and escalating income disparities resulting in poor spread of public services – the importance of the watchdogging and guidance functions of the regional director of WHO cannot be underestimated.
The best will be for the 11 government representatives, when they gather to vote, to consider neither the vehement lobbying by the Bangladeshi prime pinister nor the careful silence of Nepal's prime minister. They should simply keep in mind the best interests of the public of the vast and variegated region, in individual countries large and small as well as cumulatively. This will require looking at the work experience of the two candidates and dispassionately deciding who should get the job.
Kanak Mani Dixit is the publisher of Himal Khabarpatrika and the founding editor of Himal Southasian.